Spirit of "Community is alive and well"
Written by Mike Dunn
Press Release
July, 20 2012
The spirit of "community" is alive and well and one local company is definitely thankful for the support.
It's been almost six years since Vista Windows and Doors launched their family owned window company servicing the residents of the San Gabriel Valley, and one constant remains the same, says Phillip Rodriguez, owner of Vista Windows and Doors Mfg.
"Not a week goes by without our customers telling us the reason they chose us is because they genuinely prefer to shop local and support a local business during these tough times" stated Phillip. When customers call in for information or to schedule an appointment they speak directly with business partner and wife, Olga Rodriguez.
"Our customers seem to feel more comfortable knowing that their dealing directly with the owners and having that one on one rapport "stated Olga and having trust in us is a huge factor, and we take it very seriously".
Fortunately for Vista, both the personal service provided by their "mom and pop" window company and the factory direct business model is another plus that exceeds that of the home centers and dealers.
"We don't charge a measure fee for our estimates, we don't require a mandatory husband and wife appointment for the consultation, and we definitely don't stay at the clients' home for hours trying to wear them out and surrender their checkbook" stated Phillip.
Typical home consultations are thirty minutes or less, (depending on project size) window samples are shown to the client, measurements are taken, and project photos are shown to the client for examples of workmanship, detail and popular styles.
The standard process at Vista is to email the client their project proposal within 24 hours so they can review it in the comfort of their home without a "salesman" breathing down their neck.  Vista also invites prospective clients to view existing projects so they can see for themselves the quality and professionalism of their teams' workmanship.
In the true spirit of community and being a family operated business,  Vista employs  Phillips (brother) Frank as a lead installer, (brother in law) Frank Gallegos as a customer service manager and during the summer when school is out, all three daughters work in the shop in varying capacities learning the family business.
Local, family owned, factory-direct
Monrovia Window Company approaching five year milestone
By Lisa Mason
Press Release
June 23, 2011
Vista Windows and Doors Manufacturing does what big home centers and window dealers won't do. In a time of economic struggles, homeowners are looking to do business with companies who understand their needs and strive to meet these needs in a cost-effective manner.
Vista Windows and Doors Manufacturing has a longstanding commitment to excellence that embodies what the homeowner needs most. Quality, dependable, affordable service is a top priority.
This is a company that listens to what their customers want. As a result, they have responded by adding services over the years to include fiberglass and wood entry doors, shutters and window blinds. They have expanded to be more than just a window company and for many area residents, the family-owned business is like an extended family to them.
Angel Medrano of Glendora says. "Super happy with Vista Windows and Doorss Mfg. Phil's presentation was very professional and informative. Definitely had the best deal around! Danny and Frank installed our windows very quickly and efficiently, they did a great job. I will definitely recommend them to family and friends."
Ms. Patton of West Covina says, "I could not be more pleased with the window installation and Phil's patience, use of e-mails, and his kindness in dealing with both my hearing loss and beinga senior citizen. Thank You."
How do they remain so cost-effective and price competitive?
"We remain very price competitive because we are a small family owned business and work direct to cut out the middle man," says Phillip Rodriguez, co-owner of Vista Windows and Doors Mfg.
Phillip and Olga Rodriguez launched Vista Windows and Doors Manufacturing Inc. in December of 2006 when the economy was struggling and gasoline prices were on the rise. 5 years later in 2011, gas prices aren't much better but the San Gabriel Valley's couple has hung on against the odds and business is thriving.
Consumers today are more skeptical about what they spend their hard-earned money on. Your home is an investment and Vista Windows and Doors Mfg. helps you upgrade and enhance that investment with quality windows, shutters and entry doors that add to the appeal of your home as well as to the energy efficiency. "We are relied upon by homeowners who trust us to work on their home, and we take that responsibility seriously" quoted Olga Rodriguez.
Vista does what home centers won't do for you, such as custom color painting of entry doors, creating new window openings or custom cut downs to meet current egress safety codes.
The three primary reasons that customers buy from Vista Windows and Doors Manufacturing remain the same:
Local company serving clients in the San Gabriel Valley
Family owned and operated; you deal directly with the owners
Factory-direct business model; No middleman
The owners are constantly looking to improve and grow the company, with future plans to open a second showroom in 2012. "Our goals are to continue to provide professional service to our clients and be the premier choice for window and door replacements throughout the San Gabriel Valley and Whittier areas." This commitment to quality and customer care is what keeps them going year after year.
KEYS TO SUCCESS
" A family owned window company providing professional service with factory direct value."
By Kevin Smith
Press Release
Sept 13, 2008
MONROVIA – When Co-owners Phillip and Olga Rodriguez launched Vista Windows and Doors Manufacturing Inc. in December of 2006, the economy wasn't exactly booming. Add to that the California's housing bust, the struggles in the financial sector as well as the rise in gasoline prices having made things much worse.
But despite those challenges, the San Gabriel Valley's couple's Monrovia business is thriving.
In fact, Vista Windows and Doors Mfg. is on track to hit it's forecast of $1 million in sales this year. "Thankfully, in these tough economic times, our business model of being factory direct is keeping us very busy. " Phillip Rodriguez, 40, said. "I received phone calls last week from our local competitors that have installers looking for work."
Vista Windows and Doors, which specializes in custom dual paned windows and patio doors manufactures on site in Monrovia and provides licensed professional installations for the homeowner. Because of that customers typically save between 15 to 20 percent as compared to buying from competing dealer companies, he said. "We also beat the big-box homecenters," Rodriguez said. "Customers mistakenly think the Home Depot and Lowe's will beat us, but they don't. And the other benefit besides saving money is customer service. Customers who go to these big stores don't always feel like they get attended to." Rodriguez said a large percentage of his customers constantly say that they prefer to shop local and support the family owned community business.
Vista Windows and Doors Mfg. has a 5,000-square-foot manufacturing facility that includes a showroom to display it's finished products. Windows account for about 85 percent of the sales and patio doors make up the remaining 15 percent. The company custom produces on average 75 to 100 windows a week. "That allows us to keep pretty tight reins on the quality," Rodriguez said. "All of the glass is Energy Star rated, dual paned, and low-e which keeps the sun's heat from penetrating into the house during hot days. And during the winter the heat stays inside the home. That helps our homeowners save money on their heating and air conditioning bills." Co-owner Olga Rodriguez, 41, who handles administrative duties and customer service for the company, said there's always plenty to do. "As co-owners, we share all the responsibilities and manage all the details between the two of us," "This ensures a high level of accountability" she said. "Thankfully, we also secured on our team an experienced skilled production crew that previously worked for the big name companies. Our installation team of Frank , Jason, and Danny are our own employees so we don't sub contract out.
" Vista's most popular window style, the Regal Series, has been installed in more than 20,000 homes in Southern California, the couple said. Kim Gillett, 44, of Glendora and her husband purchased windows from Vista for a house they were fixing up in Azusa, and Gillett said the service was very good. "They did a great job from beginning to end," she said. "They were very professional and did a great job on the installation." Gillett learned about Vista Windows and Doors Mfg. from her in-laws, who had purchased windows from the company for their Pasadena home. "Their prices are very competitive," Gillett said. Phil Valenzuela bought six windows from Vista – four for the west side of his home and two for the east side. "They sent their own guy (Phillip) out to do the measuring ahead of time, so if anything went wrong I wouldn't be the one to blame for wrong measurements," the 61-year-old South Pasadena resident said. "And they were very professional – boom, boom, boom and they were outta' there." Ninety percent of Vista's customer base is residential, but Phillip Rodriguez said contractors also work with the company because Vista is able to turn their orders around so quickly. "We can turn most customer orders for windows in 10 days and if they are really in a pinch we can do it quicker," he said. "That's why contractors like working with us."
Manufacturing the Perfect View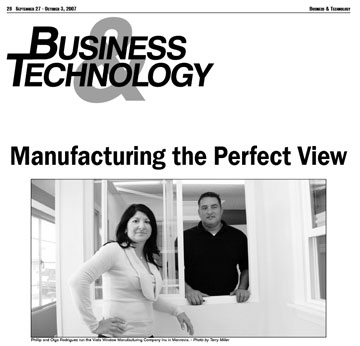 By Joshua Manly
Press Release
Sept 27, 2007
There is a new breed of business evolving in Monrovia, Vista Windows and Doors Manufacturing, which looks beyond just providing new exteriors for homes. Vista Windows and Doorss owners Phillip and Olga Rodriguez want to provide an experience that feels as if they are becoming part of your home and not just adding to it.
"The niche that we fill is that we are a manufacturer that sells direct to the home owner," said Phillip Rodriguez, who opened his showroom in January. "Most window companies in the San Gabriel Valley are dealers, which means they buy from a manufacturer and mark it up to sell. The number one reason customers buy from us is that we are local, we hear that all the time."
Using the 5,000 square foot factory/showroom as their headquarters, Vista Windows and Doors not only creates all of their own frames by hand but also has crews that can install the orders professionally. However they are certainly not opposed to the do-it-yourself spirit, since that is part of their mission to save the customers money.
It is not only the bottom line however that drives Phillip and Olga, they enjoy being part of the community. Phillip said that within several hundred yards of the factory/showroom at least seven homes are now fitted with their handiwork.
"The more houses we do in this area, we can start pointing out and saying 'We did that house, and that house, and that house," said Rodriguez.
Phillip is no newcomer to the home improvement industry. He started with a colleague five years ago creating a business model identical to the one that Vista Windows and Doors operates under now. Make everything in the factory, save the customer as much as possible.
Vista Windows and Doorss is interested in helping more than just their customers as well. They are partnered with five different cities in their rehab programs to keep property values up. Since Vista Windows and Doorss offers such competitive prices it allows residents to stretch out their grant money to get other necessities such as bathrooms or roofs.
"Our quick turnaround is also a plus," said Olga. "We are able to turn around a project in a two week time span."
There is a definite sense of pride in both Olga and Phillip's voices when they talk about their community and their product.
"Ultimately the sale comes down to trust, value is critically important to the customer, of course everyone wants the most out of their dollar," said Phillip. "When they have the owner of the company out there backing up the product instead of a commissioned sales person, it makes everyone feel more comfortable. I look at every piece that we send out before it goes anywhere."
Monrovia window company part of team of local contractors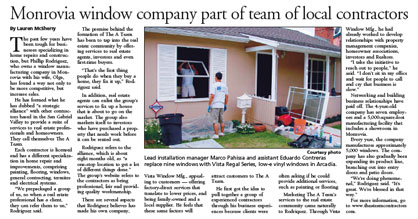 By Lauren McSherry
Press Release
May 15, 2010
The past few years have been tough for businesses specializing in home repairs and construction, but Phillip Rodriguez, who owns a window manufacturing company in Monrovia with his wife, Olga has found a way not only to be more competitive, but increase sales.
He has formed what he has dubbed "a strategic alliance" with other contractors based in the San Gabriel Valley to provide a suite of services to real estate professionals and homeowners. They call themselves ( The A Team )
Each contractor is licensed and has a different specialization in home repair and improvements, comprising painting, flooring, windows general contracting, termites and electrical systems.
"We prepackaged a group of us, so when a real estate professional has a client they can refer them to us," Rodriguez said.
The premise behind the formation of The A Team has been to tap into the real estate community by offering services to real estate agents, investors and even first-time buyers.
"That's the first thing people do when they buy a home, they fix it up," Rodriguez said.
In addition, real estate agents can enlist the group's services to fix up a house that is about to go on the market. The group also markets itself to investors who have purchased a property that needs work before it can be rented out.
Rodgriguez refers to the alliance, which is about eight months old, as "a one-stop location to get a lot of different things done." The group's web site refers to the contractors as being professional, fair and providing quality workmanship
There are several aspects that Rodriguez believes has made his own company, Vista Windows and Doors Mfg., appealing to customers- offering factory-direct services that translate to lower prices, and being family-owned and a local supplier. He feels that these same factors will attract customers to The A Team.
He first got the idea to pull together a group of experienced contractor through his business experiences because clients were often asking if he could provide additional services, such as painting or flooring.Marketing The A Team's services to the real estate community came naturally to Rodriguez. Through Vista Windows and Doors Mfg., he had already worked to develop relationships with property management companies, homeowner associations, investors and Realtors.
"I take the initative to reach out to people,: he said. " I don't sit in my office and wait for people to call and complain that business is slow."
Networking and building relationships have paid off. The 4-year-old company has seven employees and a 5,000-square foot manufacturing facility that includes a showroom in Monrovia.
Every year, the company manufactures approximately 5,000 windows. The company has also gradually been expanding its product line, branching out into entry doors and patio doors.
"We're doing phenomenal," Rodriguez said. "It's great. We're blessed in that way."
For more information, go to www.TheAteamContractors.com